Electrostatic Disinfection
Minneapolis Electrostatic Spray Services
The gold standard in disinfection technology, electrostatic disinfection is the quickest and most effective way to disinfect any business. Our electrostatic spray surrounds and sanitizes all surfaces hard, soft or anywhere in between.
Disinfection Services in Minneapolis
In the wake of an epidemic, the world realizes the benefits of having well-cleaned and disinfected areas. Now COVID-19 has made it difficult for people to carry their lives normally. And the only way we can keep the world safe is by keeping everything clean and disinfected.
The Human Coronavirus is one of the major reasons you should disinfect your area. But it shouldn't be the only reason.
The most important thing is to disinfect regularly. This is especially when dealing with areas that different people frequently use. The virus is so tiny you can't tell who has it or who will leave it on your premises.
In fact, it's very critical to clean your premises regularly—more than once a day—where there is huge traffic of people flowing in and out.
And this is why you need someone on standby to disinfect your area when needed. However, most importantly, you need help from an expert who truly understands what they are doing when disinfecting your area.
Luckily, Minneapolis disinfection services from Team Clean LLC are here for you. Whether you need regular or routine disinfection services in your area, we got you covered. Our experts are ready to help you with the services that you would need at all times.
We have a team of well-trained disinfection personnel who will get the job done for you. And this is why you need to partner with us if you want to get the best for your site.
Our Specific Disinfection Services
When you partner with us, you will receive the following specific services for your site. Our disinfection experts are qualified to carry out disinfection in the following key areas.
Residential Disinfection Services
Residential areas require regular disinfection. This is especially in residential areas where there are common facilities such as pools, gyms, play areas, or other shared facilities. As everyone is coming to the residential areas, you can't tell where they were. And worst of it all, you won't see them leaving the germs and virus on the premises.
And this is why you must ensure your residential property as a person specifically tasked with the work of regular disinfection. And once this is done, it will be easy for you to manage any issue over your premises.
So, to get the best for your premises, partner with us. We will allocate an expert to take care of your disinfection needs over your area.
Commercial Disinfection Services
 More than any other place, commercial areas require constant disinfection services. With Coronavirus still terrorizing the world, you don't want your commercial premises to be a breeding center. And this is why you must at all times get your areas disinfected at all times.
If you have meeting areas, they should be disinfected before and after the meeting. This will reduce the chances of people carrying the virus from your premises.
What Next?
 Join the whole world in the fight against COVID-19. Get your premises disinfected at all times. Contact us now to get our services now. Get sanitizing services from the experts.
At this time in history, businesses, industry and institutions in Minneapolis and across the Midwest are faced with the monumental task of protecting employees and guests now more than ever. Keeping up the appearance of cleanliness is a mainstay of any workplace, yet how certain can you be that disinfectant cleaning practices are truly in place? Your business needs more pandemic protection than just wiping down the sinks and countertops with bleach a couple times a day and calling it clean. With the vaccine becoming more and more available, safe guard the health of your most valuable assets by not letting your guard down when it comes to your disinfectant sanitizing plan. Bring in a sanitizing company that specializes in the application of Covid blocking electrostatic sprayer disinfectant.
I bet you just said, "What the heck is that?" Well, electrostatic sprayer disinfectant is a fancy, scientific term for totally clean. The electrostatic component is the most intimidating word in the phrase but it can easily be understood. An electrode inside the sprayer combines air and disinfectant formula. Positively charged solution is sprayed directly onto, around and under surfaces that the cleaning crew sprays. And, yes, it's even safe for electronic equipment! The positively charged mist sticks like a magnet to all the surrounding negatively charged surfaces. An even and thorough coating of all surfaces, even oddly shaped objects, is achieved just by pointing the sprayer and letting the electrostatic spray do the work. The fine mist dries in minutes and the disinfectant solution bonds instantly, eliminating and protecting against harmful organisms. Ultimately saving on time and cleaning expense. The best part being that for up to 60 days you'll have the peace of mind that your facility, employees and guests will be shielded from harmful bacteria, viruses and pathogens.
A regular disinfecting cleaning service schedule provided by a sanitizing company should be in place for:
Schools, daycares and places of worship
Recreation centers and gyms
Medical and dental office cleaning services
Senior care facilities
Hotels
Transportation hubs
Government buildings
Retail centers
Group housing facilities
Apartment building common areas
Residential applications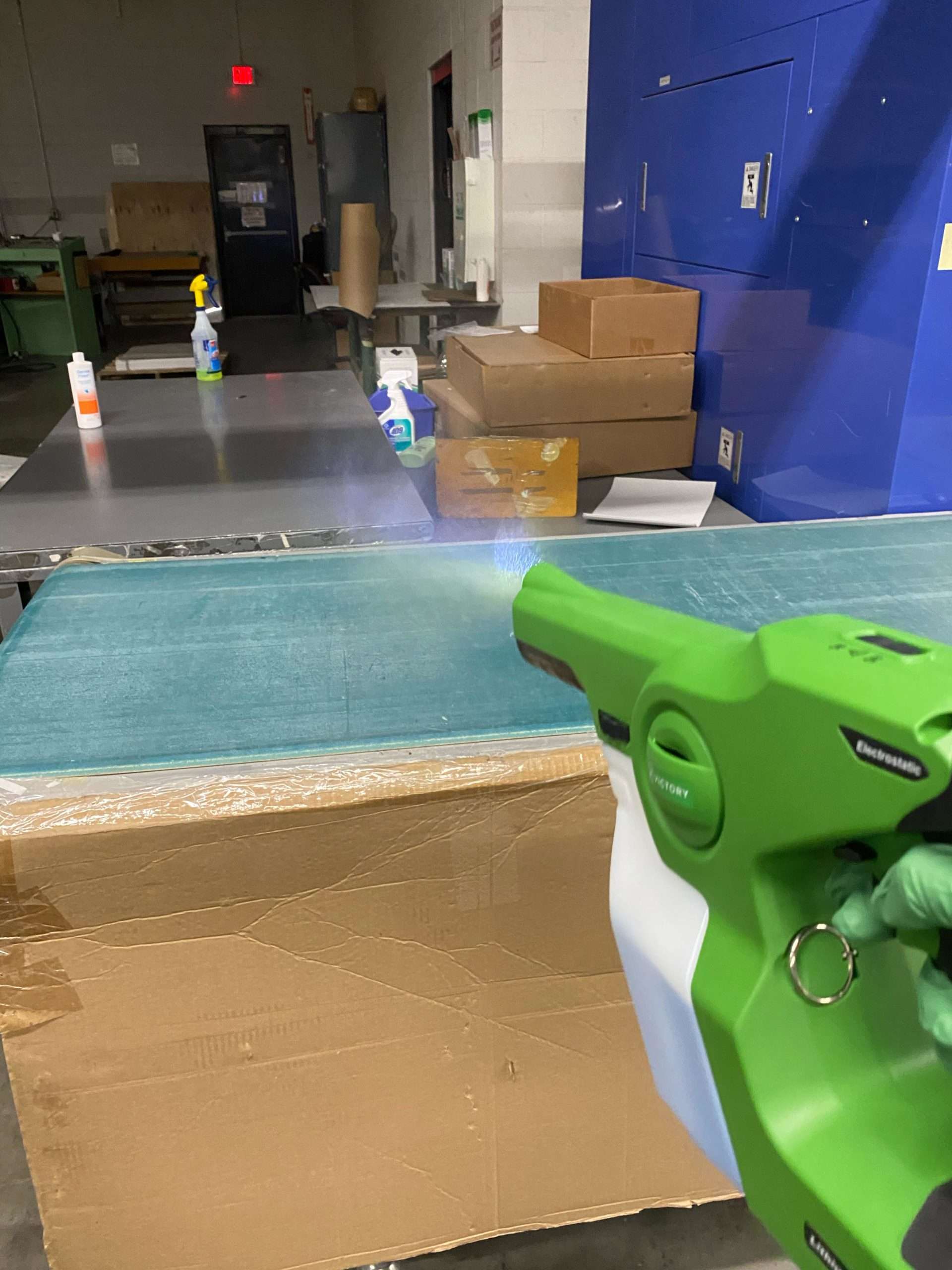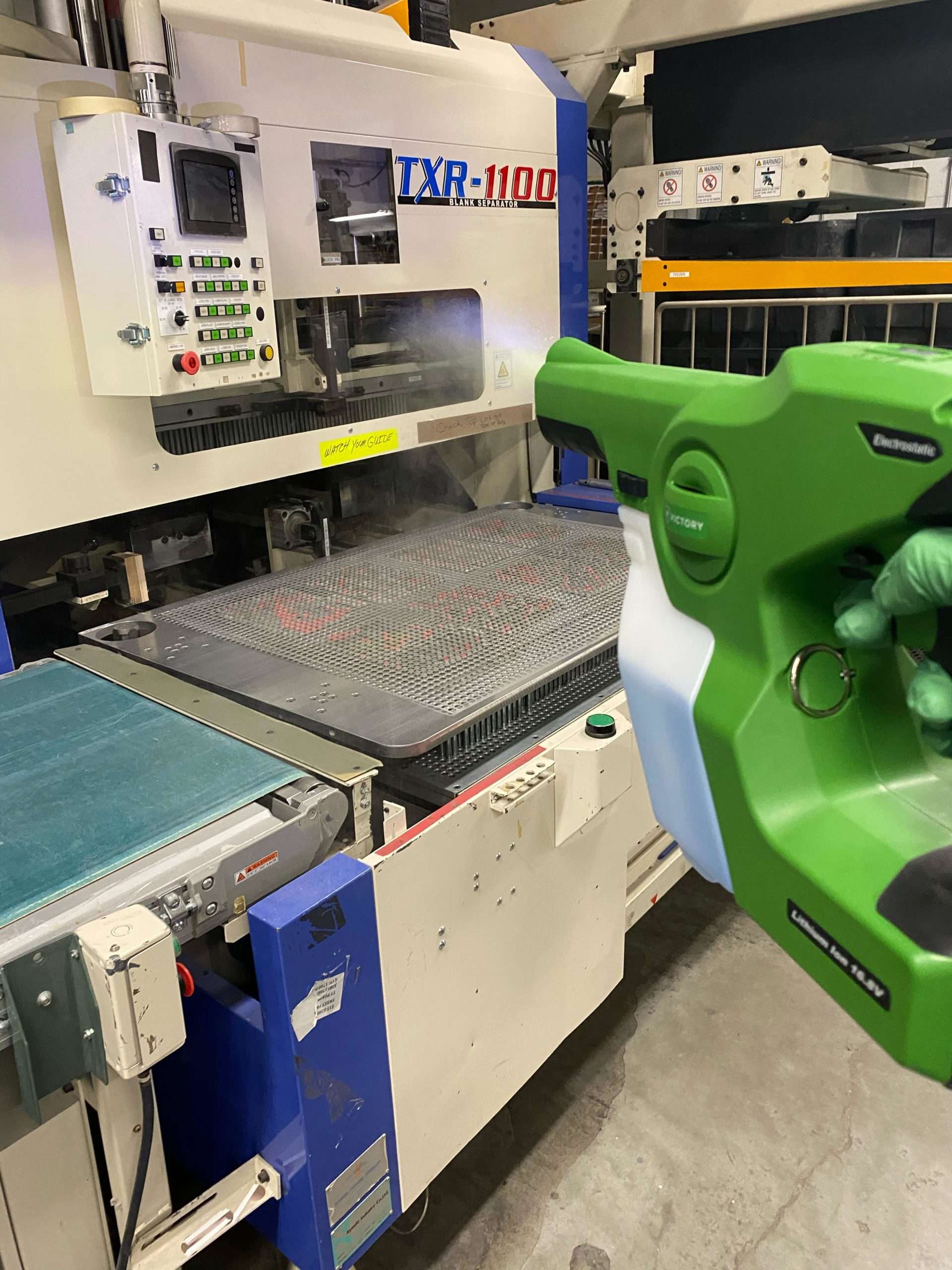 Electrostatic cleaning service can be a huge advantage in combating the challenges of providing a healthy and safe environment that your people need. Using disinfectant cleaning services is cost effective and can cut cleaning time in half compared to traditional methods. The efficient, controlled application of electrostatic spray prevents any overuse or waste of material. Contagious health care infections can be minimalized so your employees and guests will be safer. How many hours a year are lost to the flu, MRSA, colds and Covid 19? Not to mention the effect that an outbreak in a workplace can cause significant consumer decline or total loss.
Electrostatic spray can become an integral part in developing an infectious disease preparedness and response plan. In addition to basic infection prevention measures, by using electrostatic disinfection you will be able to say, "I haven't let my guard down!" Your workplace or facility will be shielded from viruses and pathogens, leaving your biggest investment safer than ever. Electrostatic cleaning services in the Minneapolis area can be your ace in the hole when it comes to pandemic protection.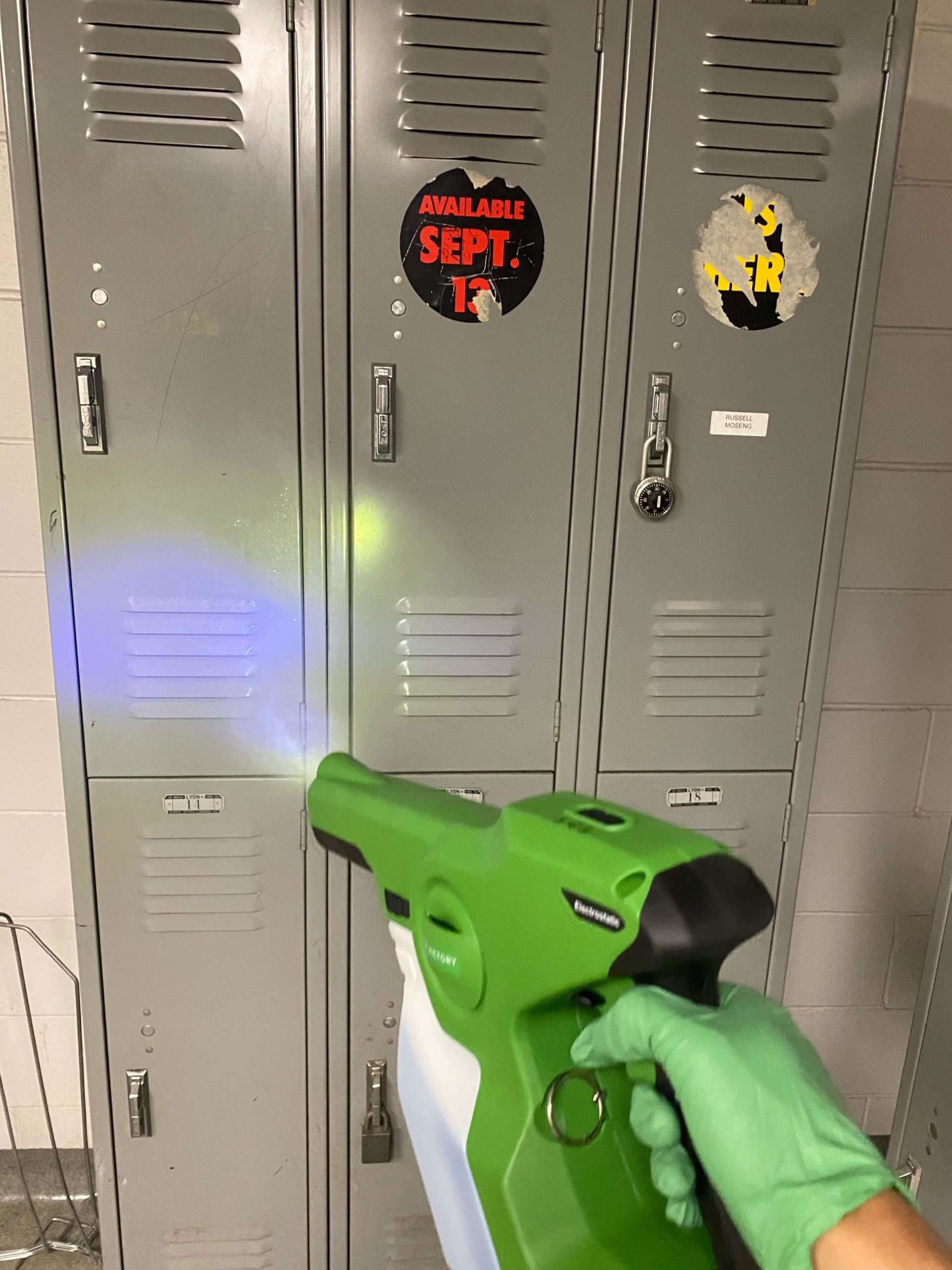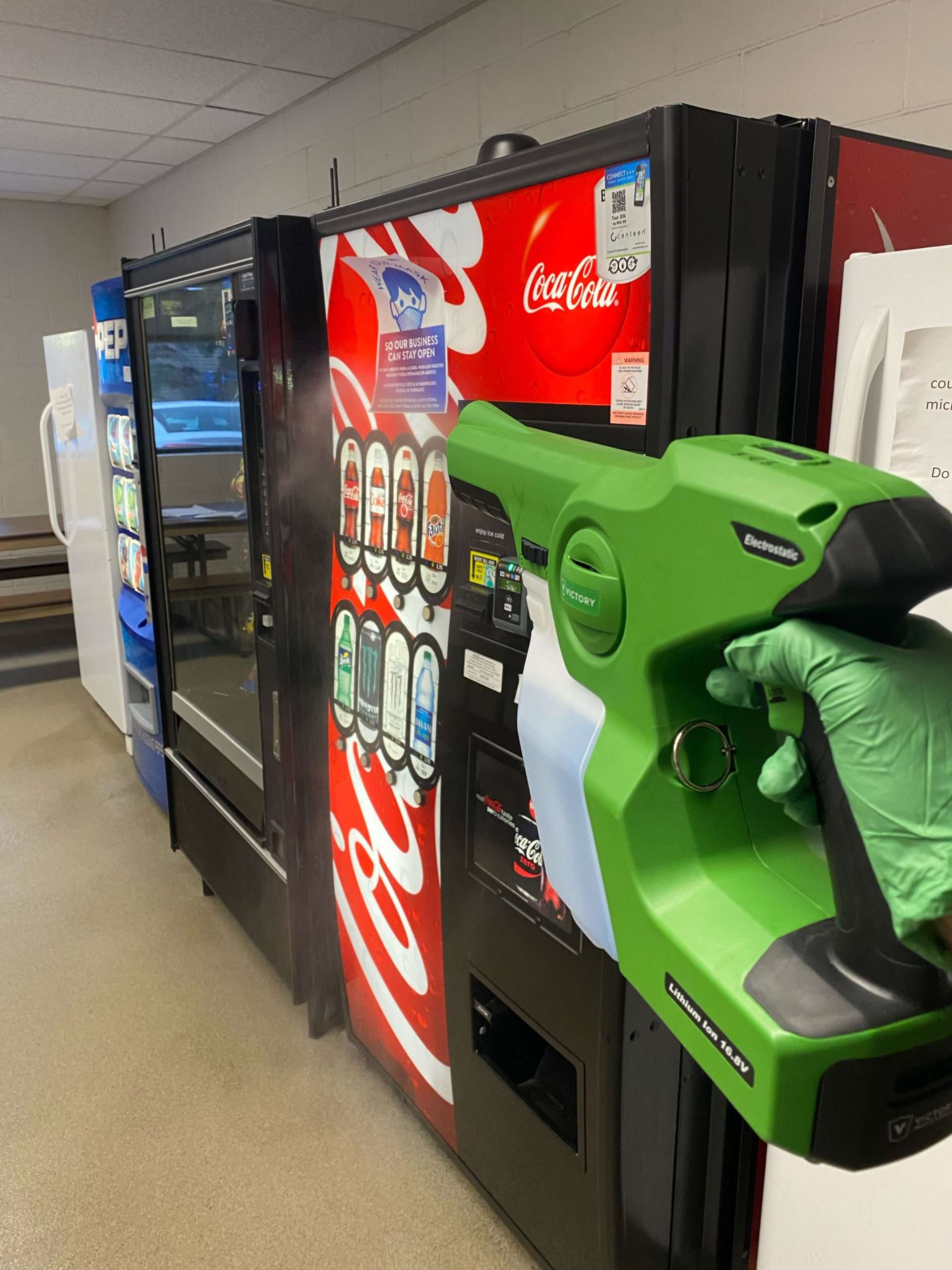 Carpet Cleaning
We can get your carpets back to CLEAN. Carpets get messy over time and let our specialist handle the mess.
Dusting
Keep your home dust free. Team clean is ready to dust all areas making sure your space is safe and clean.
Floor Cleaning
Let us bring your floors back to life. We offer floor scrubbing, strip and wax. Give your space the perfect appearance.
Surface Cleaning
Let us handle your surface cleaning. Do you have a lot of visitors? We can clean, sanitize and disinfect all surfaces.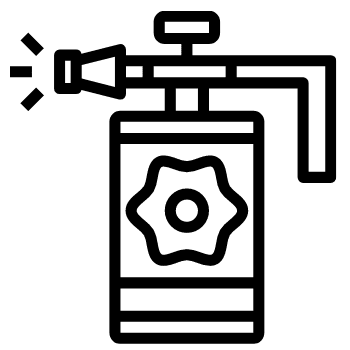 Power Washing
Keep your building's appearance Immaculate. We offer power washing for driveways, garages, decks, fences and much more.
Bathroom Cleaning
Do you need bathroom cleaning our team can help. From sinks to toilets and paper stocking Team clean can keep your bathrooms spotless each night for your visitors.
Touch Point Cleaning
Team clean offers touch point cleaning. Once a week or a few times a week. You pick the number of services. Touch point cleaning is high traffic areas those points of contact where most staff and clients most frequently touch through out the day. They include but not limited to: doors, handles, light switches, tables, desk, key boards and mouse, phones, restrooms and break rooms.
What is Team Clean's process?
Team Clean makes it simple and easy. Reach out for a quote, one of our staff will go meet you on site for a walk through. set your schedule and we begin cleaning your space!
Does someone need to be present?
No, no need to be present. We can make arrangements before. we will also make sure your space is secured before we leave.
Is Team Clean insured and bonded?
Team Clean is 100% insured and bonded.
Can I give specific instructions to the cleaners and ask for special requests?
Of course! we ask you please notify us before and we will communicate requests with cleaners.
Do you clean during or after business hours?
Each space is different. At clients request we can clean before or after business hours.
We serve the Twin Cities metro area with a focus on electrostatic spray disinfection in Minneapolis, MN.